This is what you get...
The Book
The brand new, not available anywhere else, re-written book...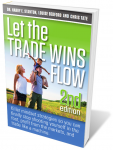 Let the Trade Wins Flow – 2nd Edition
As you know, Dr Harry Stanton is obsessed with helping traders kick down their psychological barriers that stand in the way of top profits.
You'll be in awe of the insights you'll gain, especially since Chris Tate and I have re-written this book with Harry from the ground up. Harry will help you make the markets into the CASH-COW you've been craving.
Let Harry's words and strategies wrap around you like a warm blanket, and then charge towards trading success as if your life depended on it.
The Interview
When Good Trades Attack! – DVD
This is a revealing, never before released interview where Louise Bedford puts Dr Harry Stanton on the spot. Get the specifics about how to wrestle with your subconscious and arise victorious so the market can release profits right into your account.
Even if you're 100% familiar with Harry's work, there are things on this DVD that Louise and Harry have NEVER discussed before. Secrets that can turn your trading psychology on its ear.
Never before has Harry been willing to let you have such a sure-fire sneak peek inside this world, as well as give you specific strategies that you can use immediately.
Bonus!
As a special bonus, you will also receive a great audio interview where Dr Harry Stanton discusses Your Money, Your Mindset and what it takes to get ahead in the markets.
This will be sent to you in an email as soon as you first order this pack.
The Philosophies
There are certain philosophies that bind all effective traders together.

Special Report – 50 Trading Tips to Fuel Your Profits
You'll read the 50 Trading Tips to Fuel Your Profits by Financial Journalist Caroline Stephen. This report distils the trading wisdom of all the experts Caroline has interviewed.
Special Report – Achieve Financial Serenity
You'll also read Dr Harry Stanton's Special Report – Achieve Financial Serenity. This report is a fast-start guide to mastering your mindset. These sure-fire techniques will give you a shot in the arm to kick-start your results.
Special Report – How Much is Your Self-Talk Costing You?
Louise's Special Report – How Much is Your Self-Talk Costing You? Here Louise rips apart what's happening in your noggin' about money that is holding you back. You'll see where the REAL money is made (Hint: it's made even before you enter a single dollar into the markets).
The Support
Trading Game Forum Membership
To create exceptional trading results, you'll need support. That's why we've included 12 months of Trading Game Forum Membership with your pack.
Our forum is the place where traders seeking solid results and greater control, independence and security, come together. The Trading Game Forum has been designed to bring together professional traders with decades of experience and new traders who are just starting out on their trading career.
This is your short cut! If you want to ask a professional trader a question about trading system design, money management or the subtleties of trading the current market then this is the place to ask.
The Results
Special Report – How I Beat 10,000 Other Traders and Won the ASX Sharemarket Game
I know that you have a trader's blood pumping through your veins. If you truly want to pull your finger out and achieve the results you deserve… read every word of Malcolm Bush's Special Report called How I beat 10,000 Other Traders and Won The ASX Sharemarket Game.
This report will give you encouragement and inspiration so you can see the types of results that are possible when you get your trading psychology into great shape.
You'll discover:
How to bounce back when the going gets tough
What it takes to perform at your peak and keep on performing
How to overcome your fears and experience "flow" with the markets
How much is all this going to cost?
Given everything you're getting in this pack, by now you're probably cringing, wondering how much this will all cost.
The price I initially had in mind was $997.00… and even then it would have been a bargain. That's the investment I expect for some of our other home education courses, so I know that's what you're expecting too.
However, I want to keep this information accessible, so now you can get your hands on it for just $297.00
So what are you waiting for?
By now you realise the uniqueness of this resource… and how it will impact your life and your finances.
Imagine the rush you'll feel when you close out your first winning trade, knowing that this is only the beginning, and you're a step closer to trading greatness.
Are you sick of thinking to yourself, that you'd like to trade like one of the market wizards but you're feeling gun-shy and scared? Now is your chance to claw back control.
Order your copy today.