Want killer trading strategies to beat the markets and finally achieve the success you deserve? Listen to Louise in this video...
Act Now to snap up the
never to be repeated bonuses that you'll receive when you buy this book! Keep reading to hear all about it...
Are you sick of watching your hard-earned funds slip away?

Can you taste trading success but just don't know how to achieve it?

Do you want to discover how to trade consistently and profitably?
Whether you're a novice trader or already in the game, this third edition of Trading Secrets is packed with everything you need to get in on the action. Known for her witty and entertaining style, Louise Bedford has demystified the world of share trading for thousands of investors and traders, and you're next!
Inside you'll find fascinating insights into:
handling a windfall profit

identifying clear entry and exit signals

understanding the psychological factors that affect trading performance

setting stop losses and managing money.
Full of practical advice from an expert who has figured out the markets for herself, Trading Secrets 3rd edition is the book you need to get the most out of the world of trading.
Special Bonus
The first 50 have gone, but Louise is generously keeping the special bonus offer open. Louise says: "The special offer below is available as a 'fact action takers' reward. You'll receive $149.80 in value for just $39.95.
Here's what you'll get:
| | |
| --- | --- |
| | A selection of my most demanded articles. It's usually valued at $29.95, but for you, right now, it comes as a FREE bonus when you buy my new book Trading Secrets - 3rd edition. |
| | My special report on Macro Patterns to show you exactly how to detect bullish and bearish patterns on candlestick charts (usual value - $29.95). |
| | There's one thing holding you back from achieving terrific sharemarket profits... it's your brain! This video will sort you out, smack you into shape and strip away all of your excuses (usual value - $49.95). |
But to cash in on these terrific bonuses, you must act right now. I'm only holding this offer open for a limited time, so click on 'add to cart' immediately."
Rave Reviews
Even though this book has practically just been released, the rave reviews are flooding in. Check out what some people have to say about Trading Secrets - 3rd Edition:
Felicity Rolls, Body Corporate Manager, VIC

It's time to take control

"Read Trading Secrets and take control of your finances.

You will never have a better opportunity to really learn how to trade successfully than by immersing yourself in Louise Bedford's world.

Think of this book as the golden key that opens the door to the wonderful world of successful trading."




Col Briody,

Business Manager, QLD

"What a great book!"

"Trading Secrets 3rd edition - what a great book! It's up there with the best in my view and I expect the pages will get very worn, marked, discoloured etc as I keep referencing back

* It has refreshed me, reinvigorated me and helped me de-clutter.


* It has sent me on a quest to explore candlesticks,so you can guess what two books I'll now be adding to my trading toolkit (The Secret of Candlestick Charting and Charting Secrets).


* Whilst I wasn't playing blind archery, the bow was probably warped and the arrow missing a flight or two. I was starting to lose faith. Chapter 10 - what a beauty! An aid to better clarity and reinvigoration!!

Thanks so much Louise."

Brian Carpenter, Full-time Trader, Brisbane

Brian is now a full-time trader

"Some years ago I was lucky enough to read Trading Secrets.

Now, as a professional trader, I am pleased to have access to the revised edition.

Anyone seeking trading success should read this book. Trading for dummies, it is not, Trading made simple, it is."

Peter Hunt, Business Manager, VIC

Louise is your ideal trading mentor

"A must read for those who want to take control of their financial future.

Louise is one of Australia's leading trading mentors.

There is no doubt in my mind that this book will help you develop the mind-set and skills of a successful trader."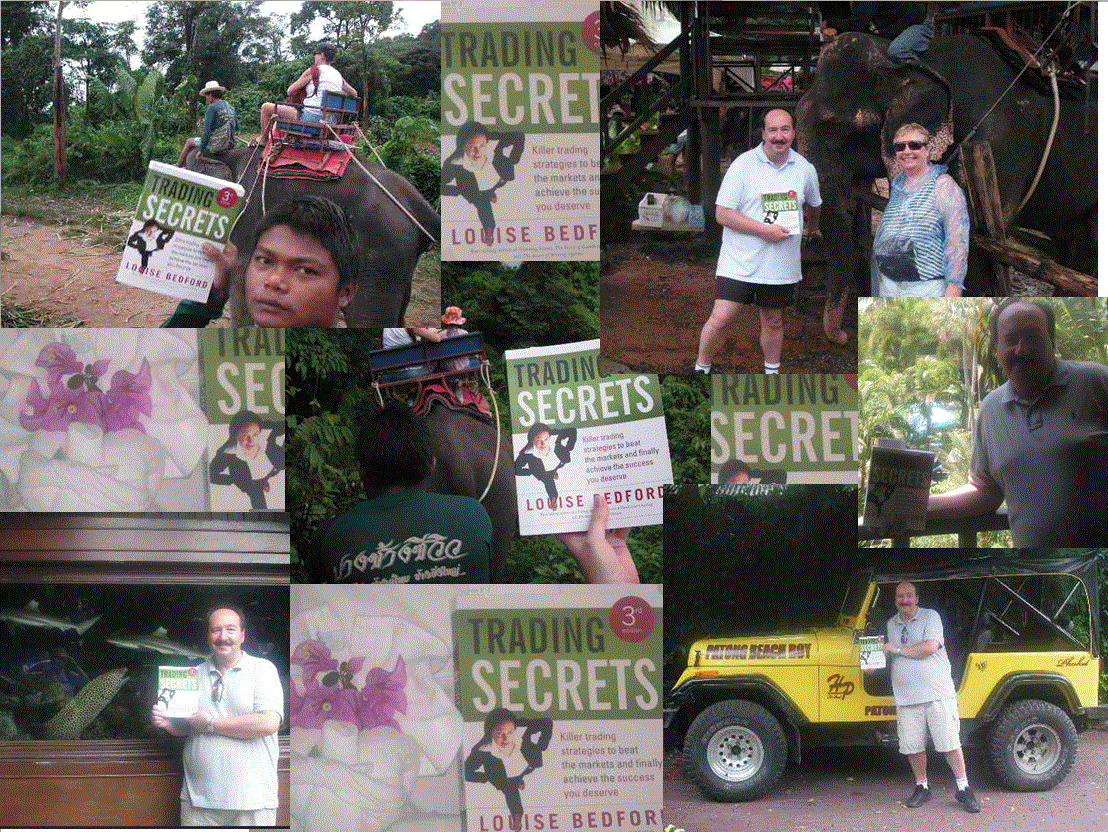 Erol Andrews is clearly a fan! He took Trading Secrets with him on a recent exotic holiday! He loves it!!
Patrick Orr, Gas Fitter, Cairns, QLD

"One of the best education resources..."

"This is one of the best educational resources a novice and even a season trader could learn from.

I recommend anyone who is looking for an excellent insight into the world of trading.

Grab this book with both hands. A few simple words do no justice as to how good this book really is."
Click on 'add to cart' immediately and you'll
receive $149.80 in value for just $39.95!