From the trading desk of Louise Bedford:

"Imagine watching masters in action - training future super traders. Think this could seriously impact your market returns?

Heck yes!"

There are traders who are raking in the profits right now, while others have missed out completely.
With the right training, you can learn bulletproof trading skills and live life on your own terms.
(Click on the image to play the video. Make sure you have your speakers on, and the volume turned up)
The Mentor Program Preparation Course lets you be a voyeur and watch the entire Mentor Program from start to finish. Unbeatable value!


If you're sick and tired of the daily grind, and you're ready to take control of your trading future, then you're in the right place. This could be the most important information you've ever read.
Chris Tate and I can show you how to trade with an edge so you'll rake in profits. It doesn't have to be a relentless and terrifying struggle any more.
The totally updated, cutting edge, new format
Mentor Program Preparation Course will be a
Whole New Beginning For You.

Some people seem to leave their dreams behind when they move into adulthood. What a shame! Here is how just some of the people we've trained live their lives today.
Rob McDonald follows the Formula 1 circuit around the world, trading as he goes.
Sally Roche has turned her trading around completely and developed multiple sources of income.
Peter Munro has made more money for his favourite charity than he dreamed would be possible.
Peter Hunt now has the financial security to allow him to retire early and spend time with his family.
These people are now our friends, having coffee with us in the middle of the day, traveling around the world, and developing the lifestyle that others think is only for the chosen few. Because of the skills they've developed, they now see unstoppable cash flow into their accounts, due to the trading systems we have guided them to develop.
BEST PART:
In just 6 months you'll have watched us prepare other traders to confidently and safely jump into high probability Share, CFD, Option, Currency (FX) and Commodity trades, without needing to study the sharemarket for years and years and without losing a fortune!
If you're the type of person who can learn from other people's experiences, you'll know this Program will be exactly what you're after.
Then, after you've soaked up the content, you'll be ready to hit the ground running in the 2023 Mentor Program.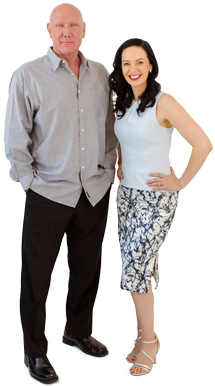 Why Chris and Louise?
We put money into share traders' pockets and make it stick, even if they only have 30 minutes a day available, and have limited knowledge about trading.
To our knowledge, and we've done a lot of research, we can't find anyone who has created more successful traders than we have.
Our people are addicted to our methods. They've seen how they can make money in ANY economy.
All trading involves risk, so you need to choose your sharemarket trainers carefully. We've been involved in the sharemarket for decades. We've seen the peaks and we've also seen the valleys. There is little that we're seeing today that we haven't seen before.
Compare this with the majority of educators. Most have only ever experienced bull markets, and even then, most were out of their depth.
Fast track your way to a new career as a trader.
We've been able to guide ordinary people to generate even greater profits out of the sharemarket than they ever believed possible.
- Jacqui Hibberd

Altona Meadows, VIC

"I can create the future I envision"

"I greatly appreciate being able to repeat the full Mentor Program course each year in order to build on my knowledge and strengthen my abilities to create the future I envision.

"The Mentor Program was fantastic and challenging and will enable me to reach financial independence and allow my husband to stay at home instead of doing "fly-in, fly-out".

"Thank you both very much for providing such an informative, supportive course that allows us to build systems towards trading success while being supported and nurtured, tested and extended all at the same time."

- Jeremy Nockles

General Manager, Melbourne

"...Jeremy covered the Mentor Program cost twice over in only 2 weeks"

"Every step of the way I felt safe, secure and confident because I knew that what I'd been learning through the Mentor Program was effective. I have covered the course cost twice over in only 2 weeks!

"I can genuinely say that I have only achieved these terrific profits as a direct result of everything you have taught me. I can't wait for the rest of the course and because I can repeat the full Mentor Program for free as many times as I like - I know that this is only the beginning."

- Andrew Woodward

Investor and avid cyclist, NSW

"Thank you Chris and Louise"

"Simply put, the Mentor Program has started my journey to financial serenity and nothing is bigger or better than that.

Thank you Chris and Louise, I have loved the interaction and can't wait to continue the journey."

So, just what is the Mentor Program Preparation Course? Quite simply, it's a unique opportunity to become a voyeur and soak up all of the information, strategies, and techniques that the Mentorees are learning over the 6 months duration of the course.
You'll be a fly on the wall as you watch all of the videos they've been given, and absorb all of Chris' and my cutting edge strategies.
You'll grab every piece of information in the most exclusive, and very best trading Mentoring Program available.
You'll get everything the other Mentorees gain access to. The main difference between the Mentor Program Preparation Course and the Mentor Program is that you'll be given read-only access, instead of being able to post up your own questions on the exclusive Mentor Program Forum.
Plus, to upgrade to the full Mentor Program in 2023, you only
pay the balance between what you've already paid
and the full 2023 Mentor Program fee.
Plus, we guarantee you a spot in the 2023 Mentor Program as well.
5 Reasons why you need to be a part of this incredible event:
1) You will be exposed to all of the latest techniques and strategies that the Mentorees are using to create incredible profits.
2) You will be guaranteed a place in the 2023 Mentor Program for an upgrade fee (i.e. the difference between the price you have paid and the fee for the full 2023 Mentor Program).
3) You receive the whole current Mentor Program, (read-only) delivered by Chris and me (Louise), in its entirety, at a discount compared to the price that everyone else had to pay.
4) I've thrown in 12 months of main Trading Game Forum Membership for FREE, so you'll receive valuable support before the 2023 Mentor Program even starts and learn how the forum works. This is valued at $320.00!
You'll be ready to hit the ground running when you get access in the future to our exclusive Mentor Program Forum (reserved for Mentorees and you only).
5) Chris and I will give you read-only access to every little-known strategy we're releasing to the 2022 Mentor Program group - so it will be like you are getting an unfair advantage!


When you take part in the Mentor Program Preparation Course, you'll have read-only access to the exclusive Mentor Program Forum, and you'll learn everything that the full Mentorees are learning.
The only difference is you won't be able to ask your own personal questions on the exclusive Trading Game Mentor Forum, and we can't supply a past Mentoree for you to be your 'trading buddy'.
You'll qualify for the advantages, as well as an extra 'Get a Trading Plan' CD when you upgrade for the full Mentor Program.
Although you cannot repeat the Mentor Program Preparation Course again for free, you will be given priority when booking into the full 2023 Mentor Program and subsequently, you can then repeat the full Mentor Program as many times as you like for FREE.
We will keep your seat warm for you! We will even send you an early, priority email offering you the chance to upgrade to the 2023 Program - so you're guaranteed a place.
You'll just need to pay the difference between the Mentor Program Preparation Course fee, and the current Mentor Program fee when you're ready to upgrade.
What a great opportunity!
Grab Your Spot While It's Available.

When:
This 6-month course kicks off on Sunday, 13th February 2022 for a strictly limited number of people. So why are we limiting the numbers of people who can take part in this training? Well… quite simply, our systems can only handle a certain number of participants.
This will be your last shot at getting into the Mentor Program for this price, so you need to make up your mind super-quick!
The last Mentor Program Preparation Course booked out within just a few hours!
So, if you feel in your bones that this is right for you - now is the time to act. Don't leave it to chance. Jump into the Mentor Program Preparation Course and you'll never look back!

Really, really understanding almost every aspect of trading
before you get rolling in the full Mentor Program.
Imagine what this could do for your trading - and your life!
Pre-Requisites:
The course is not just for people who have been trading for years. Even if you have just read one of my books or Chris' books, and you haven't placed a cent in the market yet, this course is for you.
To make sure you've got what it takes, though, you'll need to read either Trading Secrets or The Art of Trading before we kick-off. You'll be able to wrap that up in a weekend easily.
Also, because the course will utilise the most up-to-date multi-media, you'll also need a reasonably fast connection to the internet using broadband ADSL or a cable connection and a computer less than 3 years old. You'll need the Beyond Charts+ charting package as well.
We have a dedicated software trainer, Scott Lowther, who will help you make this charting package hum. You can start the course using any charting package that you have access to, but Chris and I find that the best performing Mentorees buy Beyond Charts+ before the Mentor Program kicks off.
You'll learn in your own time, at your own pace, so it's ideal for busy people with a lot on. We'll even give you access to videos recorded at those meetings, so you'll be fully included.
You realise what we're doing here, don't you?
We're opening up the whole hidden, underground world of the Mentorees for you to look at and watch. If you're like me, I've always found it to be of infinite value to learn from other people's mistakes. Keep your eyes open and focus on every discussion, every word - and you'll be up and running in no time.
You'll receive brand new, completely up to date, never publicly released downloadable videos and podcasts to boost your learning curve.

You can watch them again and again. Chris Tate and I have spent years developing the most sophisticated adult learning methods and trading systems available.

We short-cut your learning curve, and get you trading profitably as quickly as possible. You will derive immediate benefit. These tools have been independently valued at thousands of dollars, and these are available to you for FREE when you participate in our Mentor Program.

Yes - you'll even get access to these tools!
Incredible!
So to summarise, you get:
ALL the online information and resources in the Mentor Program
Priority when booking into the 2023 full Mentor Program (you only pay the difference!)
Read-only access to the exclusive Mentor Program forum
Full read/write access to the Trading Game main forum for 12-months
ALL bonuses the other Mentorees get
| | |
| --- | --- |
| | Imagine what it would feel like to not have to worry about the future market direction and to know you can make money regardless |
| | Imagine living your life to your full potential and achieving the incredible trading results that the previous Mentorees have attained. |
| | Imagine feeling supremely confident about your ability to make money in any economy. |
If you want hard-hitting trading education, crammed into 6 thought-provoking months that will turn your trading around, jump on board. Where else in this country can you learn from two committed traders who have the track record to make your toes curl?
What results have people achieved after completing the Mentor Program?

For ordinary people, committed to their own trading success...
we make it hard to fail.
Here are some attendees of previous Mentor Programs with their views on the course.
I've nearly worn myself to a frazzle in the past trying to drag people to success. Unless you really want it, you're not going to be able to achieve it.
However, if you're the right person at the right time, I would love to welcome you into our thriving trading community. If you're after breakthrough strategies and techniques, if you want to uncover hidden profits that you never knew existed, and if you're looking to immerse yourself in the training of two spectacular traders who have already made it – then you need to book into the Mentor Program Preparation Course today.
"The information is given openly..."

"Definitely do it. At least you will learn a ton of information and have the door open to you to be able to start a viable, very lucrative business.

"If you want a genuine chance at a magnificent life, I can't see a better, more likely option."

- Julia Osorio-Martinez, Driving School owner, WA

"I was trading blindly before..."

"Chris and Louise, I was trading blindly before. As a direct result of the course, I've been able to generate a 50% profit on a couple of the trades I've made."

- Dr Joe Papa, orthodontist, happily married father of two, and a successful trader - Melbourne

"I learnt so much..."

"The difference already is so immense I can't measure it. I think this program has given me a new lease on life and fresh hope. I now feel like I have the freedom to make the choices I want to give my kids the future they deserve."

- Christine Barwise
Systems Analyst and Mum, WA
Special Offer: Book Now and Save $$$
When we work personally with clients our rates are up to $1,500 per hour. For the past few years, I haven't been taking on any more personal clients because we can't keep up with the demand for one-on-one training.
However, you can gain access to me, my methods, and Chris Tate's winning strategies for a fraction of the price others have paid in the past. When you include all of the time and the bonuses that we're giving you, the full price of the training is valued way over $15,000.
Because you're reading about the course right now, you qualify for our special!
Choose one of these options:
1

The 'Mentor Program Preparation Course'
Payment Plan

"Yes Louise, I want to be a part of the Mentor Program Preparation Course, and take part in this life-changing opportunity. I will make a deposit now of $2,665 and then just 2 monthly payments of $2,665 (and pay only $7,995 in total).

I want to book online now."

(All prices include GST)

OR
2

The 'Mentor Program Preparation Course'
One-Time Payment

"Yes Louise, I'm keen to become a member of the Mentor Program Preparation Course for 2022. I realise this could be the very key that will unlock the trading vault. I'll pay $6,995 as a one-time payment.

I want to book online now."

(So, for an incredible discount of $1,000, compared to Option 1, you can become a Preparation Course Mentoree in 2022).

(All prices include GST)
We have extended the deadline
until Midnight on
Feb 1st to book in!
We may never again offer this type of discount - so there's never been a better time to get involved in the Mentor Program as a voyeur. We'll be closing off bookings at midnight on February 1st, 2022 so hurry.
This will cover the entire 6 months of the Mentor Program... so you can use it as a primer prior to upgrading to the 2023 Mentor Program.
For the 6 months, that's only around $38 per day to generate a lifetime of change.
Also, considering that people pay me up to $1,500 an hour for personal training, this is an
absolute bargain.
You'll be shocked and delighted at how many juicy techniques you'll pick up, just by watching the way we handle our Mentorees questions.
You'll kick yourself if you don't move on this, right now.
Take advantage of this massive special now, and you can watch the Mentorees frolic and play, as well as being given every resource that they are being exposed to.


Many of our traders have told us that there is more information jam-packed into the whole Mentor Program than in a full University degree, all packaged into bite-sized, easy to understand chunks. And, I can tell you; any University degree costs a whole heap more than this modest fee. With the correct application of these principles, the rewards to you and your family could be massive.
---

Talk is cheap - so I'm putting my money where my mouth is.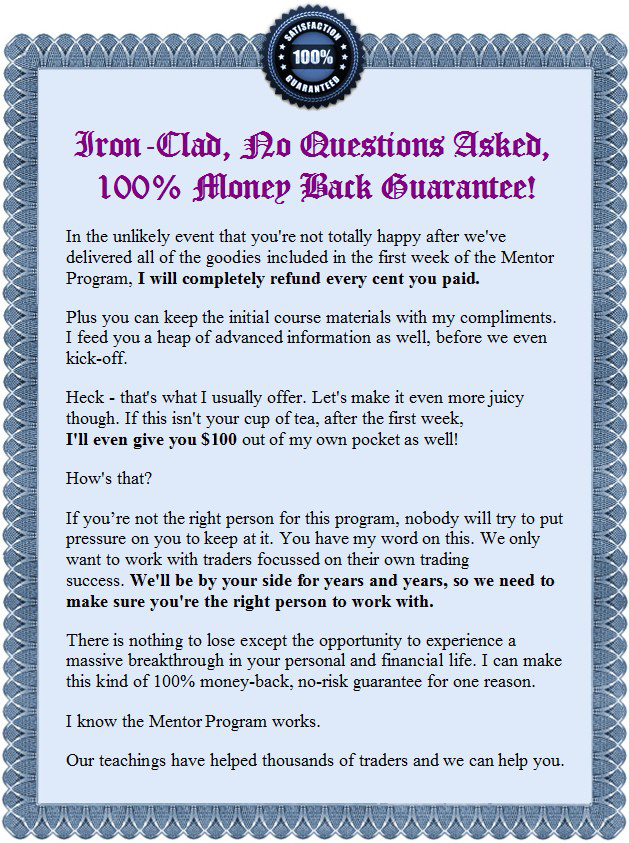 If not the Trading Game Mentor Program Preparation Course, then what?

What are you going to do to generate the types of results
that the past Mentorees are achieving?
It's our experience that most traders don't approach anywhere near their full potential. We bring all of the knowledge we've had trading the sharemarket together, and we give these shortcuts to you. If you're looking for a power boost to get on the right track to trading success, then I urge you to do everything you can to participate.
The difference between failure and success is action. You owe it to yourself to get involved.
We're looking forward to showing you how to gain an unfair advantage in the sharemarket and
develop the trading tools to last a lifetime.
Warm regards,


Louise Bedford
| | |
| --- | --- |
| | One more thing - The systems we will reveal to you are completely original. Chris and I have only ever released these strategies to our previous Mentorees. Because of the incredibly lucrative nature of these tactics, you must promise not to share them with anyone! They are intended for your private gain only. Fair enough? |

General Advice Warning - The Trading Game Pty Ltd (ACN: 099 576 253) is an AFSL holder (Licence no: 468163). This information is correct at the time of publishing and may not be reproduced without formal permission. It is of a general nature and does not take into account your objectives, financial situation or needs. Before acting on any of the information you should consider its appropriateness, having regard to your own objectives, financial situation and needs.

Chris and Louise can be contacted at:
The Trading Game Pty Ltd ABN 18 418 996 042


All content is © 2021 Trading Game Pty Ltd All Rights Reserved